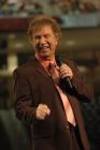 Arriving in Belfast from an early morning flight, I attempt to check into my hotel but find that my room is not ready. So adjourning to the bar, I sit, drink coffee, read the paper and eaves drop on a bunch of Welsh boys over here for the 6 nations match tomorrow.
I am here to work on the Gaither Homecoming show that I am doing wit my mate Trevor King. Truth to tell it's not my sort of music but after organising the Gaither London Homecoming, I know that they are very good at what they do. In that occasion, I was introduced on numerous occasions to the man himself, Bill Gaither. On each occasion the person would say "this is gary Smith from Big Ideas" and he would say "Big Ideas, we could sure do with some of them" The first time it was mildly amusing, every other time it was an indication that he had forgotten we had previously met!
So it was with a feeling of trepidation that I stood up an introduced myself to him as he crossed the lobby of the hotel. Obviously I did not expect him to recognise me and therefore I was not disappointed! I was surprised when he joined me and for the next 90 minutes he shared stories, not about Christian music and business but about God and grace. It was an honour and a privilege to share with a 74 year old man of God who is happy not to have all the answers but just loves Jesus. Whatever else happens in the next few days, I can say it was worth the trip for the time we shared over a coffee.
Again, I feel humbled and blessed!