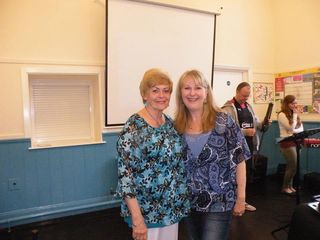 The week before the launch we invited our core team to join us at the hall to have a run through setting everything up for the new congregation. It was such an encouraging night. Not only did we get everything working we had a great time of praise and prayer. The presence of God was tangible and developed not only a sense of excitement but also of intimacy about His plans for us.
The day before the congregation began, Lesley and I went out to celebrate her birthday with our great friends Alun & Kathy Matthias. It was so nice to compare notes, hopes and fears about the new adventure.
Diana & Lesley Prepare to Welcome Visitors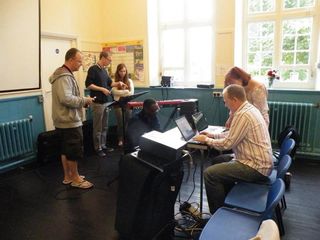 As the day arrived for the launch of the congregations, the church prayed for us and it was all systems go! On our way home we took time out to buy some nice coffee. We wanted to ensure people got a great welcome, quality drinks and cakes. Using a hall and not a church building means that there is a longer set up. The team arrived in good time to lug chairs, make drinks, set up PA and the 101 things that need to be done to make a service work. Pastor Stephen Gibson came along with Millie Booth to lead worship, Lesley was hosting and I was speaking. As the start time approached, people began to arrive, not only our team, a few well-wishers from other churches and some folks from City Temple
Last Minute Preparation
but most crucially, people from the village of Wenvoe. One lady who had received a leaflet through the door stated that this congregation was an "answer to prayer". In total about 40 people attended, we were thrilled.
Our plan all along was to have what could be recognised a an "act of worship". Simply put, there would be sung worship, preaching and prayer ministry as key components of each evening. We would then encourage people to stay for a chat over a drink and cake.
I can honestly say everyone did an amazing job. The preacher was more nervous than he anticipated but most people didn't notice :-)  Our welcome team ensured that everyone was spoken to and the hospitality was excellent. Stephen & Millie lead us in worship that with the echoing acoustics of the room took the volume to another level.
By the time Lesley and I got home, we were buzzing and it took a good while for us to be able to truly relax. The journey had only just begun. The day had been a milestone and all glory belongs to God