Much to my surprise, I found my self as the assistant to the assistant cook with the youth group from my church at this year's Soul Survivor.
During one of my frequent chats with City Temple's Youth Pastor, Matt Gregor, I happened to say
"What happens at Soul Survivor stays at Soul Survivor" His profound response was "yes, that's the problem!"
It was a great time and I really enjoyed being with the 55 young people and the other leaders that were there that week.  It is such a wonderful event and such a privilege to see so many people worshiping God. As the week went on it was amazing to see the impact that God had on the lives of many in the group. Their worship became more passionate, they listened to the talks with interest and were anxious to respond to the ministry of the Holy Spirit and to be involved in praying for others.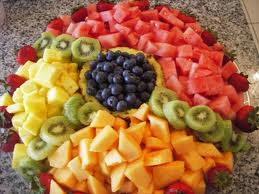 However I was challenged one lunchtime when we served up a wonderful platter of fruit. A young woman who had been passionately worshipping God a few moments before headed the queue. Taking a plate she selected for herself 4 slices of melon, enough orange segments to make up 2 whole oranges, 4 or 5 plums and some other ancillary fruit! I suggested to her that it was a little too much in light of the many yet to be served.  Her response was. "I like fruit" Again I challenged her. She looked down the line and said "I'm not bothered". Once more I tried. She looked at me and said "No, you're alright" and went back to her table with a plate piled high with fruit. I was not only speechless, I was disappointed and not a little angry. Later in the week in a similar incident a young man took around 10 pieces of ham thus ensuring we ran out of sandwich filling for those a little further back in the queue. 
This made me think that there seemed to be a journey for many to go on before the impact that God appeared to be having on them personally overflowed into how they dealt with and considered others. This revelation will come as no surprise to any Christian parent who has anxiously awaited their child's return from a Christian camp, event or youth service. As they ask tentatively "how did it go" the likelihood is their progeny will answer with a grunt, "yeah it was ok".  After Soul Survivor most kids come home shattered, throw their washing into the house, mumble hello, head to the shower and spend the next six hours on facebook!
Over 30,000 kids attended Soul Survivor and Momentum alone. This does not include the myriad of other Christian camps that happen across the summer holidays. Just imagine the impact on the world if the passion could be poured out on a needy world, a grateful friend or an amazed parent. 
However, let's not assume this malaise is unique to the young. The same issue is evident amongst the adult church after every Sunday service!
Jesus was aware of this problem. He recognised that it was not the religious experience that made the disciple but their action once they had encountered Him.  "By their fruit you will know them"