I have known Ernie Haase and Signature Sound since I did some shows with Bill & Gloria Gaither & some of the homecoming friends in Europe a few years back. Indeed from there I was delighted to book some of their shows and road manage a tour of Europe for them. So it was with some interest that I read this press release issued earlier this week.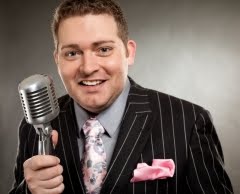 Ian Owens Resigns From EHSS
Dear Friends,  
For the past two years the EHSS team and fans have been enriched by the voice and personality of Ian Owens. Ian has announced that he will be pursuing other interests (both musical and personal) and we fully support him and wish him great success. Ian's last date with EHSS will be October 13th, 2012 in Sunnyvale, TX. Come out and support Ian and please pray for Ian and his wife Megan as they follow this new path. We will miss Ian dearly. He is a funny, FUNNY man who has become a great friend and that will never change. We will update you at a later date with all information concerning Ian and his plans. Our new bass singer is a young man you are going to love. His name is Paul Harkey. We will fill you in on all of his information soon. Pray for EHSS as we navigate through this transition time.
Sincerely, Ernie
During the time I have known them EHSS has seem a few changes. Ryan Seaton moved on as lead and Tim Duncan vacated the bass spot. Each time there has been a significant outpouring of grief, disappointment, speculation and in some cases downright anger from fans. Indeed I still get many visits to my site for people trying to find information about Ryan Seaton and even Guy Penrod. The ususal earch question ."why did.... leave...?" Whilst being inquisitive in natural that fact that people are  surprised by change is strange especially those that walk with Jesus.
A book in the old testament Ecclesiastes reminds us 
    There is a time for everything,
    and a season for every activity under the heavens:
    a time to be born and a time to die,
    a time to plant and a time to uproot,
    a time to kill and a time to heal,
    a time to tear down and a time to build,
    a time to weep and a time to laugh,
    a time to mourn and a time to dance,
    a time to scatter stones and a time to gather them,
    a time to embrace and a time to refrain from embracing,
    a time to search and a time to give up,
    a time to keep and a time to throw away,
    a time to tear and a time to mend,
    a time to be silent and a time to speak,
    a time to love and a time to hate,
    a time for war and a time for peace.
Ecclesiastes 3 
This scripture suggests that not only is change the only thing, other the God, we can be certain about, the very changes that cause us such concern and discomfort are sometimes designed by the Lord. 
At the times of distress, concern and discomfort it is not unusual for a fellow Christian to recite 
and we know that in all things God works for the good of those who love him, who[a] have been called according to his purpose.
Romans 8:28
Or
For I know the plans I have for you," declares the LORD, "plans to prosper you and not to harm you, plans to give you hope and a future
Jeremiah 29:11
These are the word of God so they are truth but often they are tossed without care or real concern in the face of a hurting person. Often in might be helpful to offer these verses as comfort to our grieving or consuded brother or sister but sometimes they just need to know you care enough to feel their pain not wish them out of it! That said, when you walk in valley (When not if!) then I commend you speak these verses over your life because He is good and He does promise you hope.
Our very lives are testimony to change. We have grown,  and in our story we have to the most radical change possible once we were lost and now we are found. Businesses in the 1980's were urged to recognise that change was inevitable (Change or die!) and that to secure their future they should manage change. It is timely that as individual believers we also need to be involved in this process. We should accept and embrace that which Paul told the church in Philippi
"for it is God who works in you to will and to act according to his good purpose." 
Philippians 2:13
Yes God is in control. He does not always cause the change but He is in the redemption business and He will be faithful to His promises.
Throughout the gospels we are aware that Jesus is a man on a mission. He very appearance changed everything. His closest friends seemed most challenged by the very changes he brought about. However we have the advantage of knowing the end of the story. The blameless life did not end in His death but in a glorious ressurection. This my friends is the ultimate good news.
In a changing world one promise we can be assured of is:
Jesus Christ is the same yesterday and today and forever.
Hebrews 13:8