To make sense of my trip to Shreveport, you have to know David Smallbone. A long time friend of mine and father/manager to Rebecca St James & For King & Country, when I told him I was planning to visit the USA he said I must visit Simple Church in Shreveport. Indeed, he would set it up for me.

So after an 4am start and a couple of flights, I arrived at Shreveport to be met by the Pastor of Simple Church, Justin Haigler. His welcome went something like "You are very welcome. I am not sure why you are here. David Smallbone asked me to meet you. I am available to you all day" Within that greeting contained a couple of great facts. 1. Like me he had been persuaded by Smallbone, with the minimum information to make time for this get together. 2. He was willing to invest in meeting with a bloke he didn't know. What a great guy!
Simple church was founded by Justin about 7 years ago and now has a congregation of about 5,000 that meets every week at the local convention centre. They are an ambitious growing church that is designed to attract unchurched people. With this in mind each service only lasts 45-50 minutes and they have never taken an offering!
Our day together consited of sharing ministry adventures, funny stories, doing some local church ministry and discovering some of what Shreveport had to offer. One of the first things we did was meet an elderly AfroAmerican man who had nearly died in a freak fire. We took him some soda and ice cream. Justin prayed for him and assured him when he got out that the church would find him a house!
Lunch was a very interesting experience. I was taken to a 'hole in the wall' dive called Herby K's


We started with deep fried pickles with tabasco sauce before going on to the house speciality, the Shrimp Buster. Basically it was deep fried jumbo shrimp on a brioche bun. It was incredibly delicious and definitely NOT healthy! Whilst we were there we bumped into a few people who went to the church. We also met a guy who was thinking of joining. His main question was "do you preach hell?" Justin invited him to give the church a try. Even with the little I knew about Simple, I guessed he wouldn't stay even if he came. It was encouraging that Justin

thought the same. As we ate we I noticed the queue for this dive of a restaurant was now reaching out of the door. We vacated our seats to make way for more diners. We then went down town to the churches store where they sell goods made throughout the world as well as locally. All the money goes to supporting missions. The manufacturing process is employing people and then the money generated also providing food, medicine and education. They have unique lines such as their t shirts that carry the logo "Do Good" They also have a really interesting idea. If you take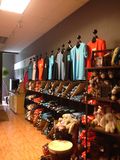 a t shirt back to them, they will give you a discount on a replacement and then use the 2nd hand one to make into a blanket!
A quick coffee, a tour of their offices and I then got to spend more time quizzing Justin about his church and ministry as well as sharing with him all about Ignite and Vale Village Church It really felt like a meeting of minds and I am excited to so how the relationship develops. I spent the evening on my own. I had a steak for dinner and watched Alan Partridge-Alpha Papa which was very funny.
Thursday morning was another early rise and 2 flights to take me back to Orlando for a meeting with the Missions Pastor at the First Baptist Church of Orlando. I arrived a little early and sat in the churches cafe which is on their massive campus. Once I had waited 10 minutes past the agreed meeting time, I went to the reception and asked them to track him down. Eventually a message was relayed to me that he had expected me at 10am not 4pm! I pointed out that this was not the case and his executive assistant came down to see me. On arrval she repeated I was expected at 10am. I showed her the confirmation she had made of the meeting at 4pm and she then admitted there was a mistake. I asked if I could see him but was told he was busy preparing for the evening. Could we reschedule for tomorrow I asked? No, it's his day off. Would I like to give him a message?...... Eventually I sat down and talked with her. However I was upset because I only returned to Orlando for this meeting. I suspect we probably won't be partnering with them anytime soon!
Tomorrow I have a free day before flying to Fort Wayne.