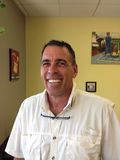 Although not as catchy as leaving Las Vegas, Tuesday was my final day in Lake Placid. However, before I left I wanted to catch up with a guy who to my mind is a local legend, Sammy Telesco. Born into a mafia family, life was tough for Sammy and he made some wrong choices meaning he ended up serving 18 years in a US jail where he gave his life to Jesus. On release, he married a wonderful woman, who was also a prison guard, and determined to help kids make better choices and hopefully introduce many to Christ.
He is an inspiration. When I met him on Monday he shared with me, almost without breath, for 40 minutes. His passion was infectious. So much so that we agreed to grab an early lunch the following day. His vision has taken a downtown store and turned into an amazing youth faclility where kids can come to hang out in the evenings but also can come after school to study and be tutored. This has resulted in many failing pupils improving their grade averages significantly. More than that they have been shown they are people of worth and there is a father in heaven who loves them. Sammy, is a likeable, tough guy from Conneticut who stands for no nonsense. His gym is a place of discipline and his determination saw the opening of a great basket ball facility. I am challenged to think what we can do to support and encourage him and his lovely wife.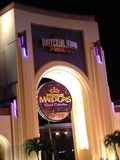 From there I headed north back to Orlando and checked into a Comfort Inn by the airport. It was a really nice room and a good place to relax. I ran 5.5 miles in the gym which I was quite pleased with as I had run 4 miles in a temperature of 35c the previous day.

Early evening I headed out to Universal Studios to meet Glenn and Cathy Smith. I had got to know them when I organised for Rebecca St James to minister in Japan for the US Airforce. Cathy is quite a force of nature who is a fantastic event organiser. Glenn is responsible for further education on Patrick airforce base which is on the East coast of Florida. We headed to the Hard Rock cafe where they treated me to a lovely dinner. I had the Texan Smokehouse sandwich which was exceptional. They are just great people. It was good to catch up but as I had a 4am wake up call the next day, I headed off about 9.15pm. I looked into a bar by the hotel but with a higher than average number of tatoos on the customers and everyone smoking decided it was probably not for me!
I am finishing this post at 5.45am as I wait to get by flight to Houston/Shreveport. It's going to be a long day!